KöR Whitening Deep Bleaching is the newest, most revolutionary and effective teeth whitening system ever developed.   Unlike typical teeth whitening procedures:
KöR Whitening is so effective; it is the only recognized system in the world that will even whiten tetracycline (dark) stained teeth, previously thought to be impossible.
With easy periodic at-home maintenance your teeth will stay white permanently, even while you continue to drink red wine, tea, coffee etc.
During the whitening process nearly all patients experience only low to typically no teeth sensitivity.
This procedure is comfortable and 100% safe for your teeth and gums. The result is a radiantly white, natural appearing smile that you will LOVE!  It's perfect for everyone, from 14 to 90!
Related Teeth Whitening Articles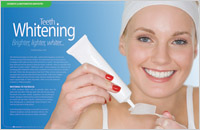 Teeth Whitening – Brighter, lighter, whiter…
The subconscious impact of a white smile is radiant health, happiness, warmth and invitation. This phenomenon has been reinforced with the spread of American culture worldwide, where an especially white smile has even been coined a "Hollywood smile." Today brighter, lighter, whiter teeth have become a norm. Tooth whitening by bleaching is a successful, conservative, relatively inexpensive and safe alternative… Read Article
Important Teeth Whitening Questions Answered!
In Dear Doctor's interview with nationally noted teeth-whitening expert Dr. Van B. Haywood, he answers questions about bleaching techniques and safety in achieving the best possible results. If you are thinking about getting your teeth whitened at your dentist's office or doing it yourself at home, this is a must-read… Read Article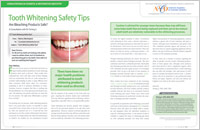 Teeth Whitening Safety Tips
There have been no major health problems attributed to tooth whitening products when used as directed. Many studies have confirmed this, and we will share some of these findings with you… Read Article