Dr. Kostides both welcomes and enjoys working and helping children to maintain a healthy and high level of oral health!  Children's dentistry is his specialty!
Your child's first visit will be enjoyable with a free introductory tour of our office. Dr. Kostides and his team's reassuring approach make every visit comfortable, relaxing and even fun! Introducing your child to the world of dentistry in a relaxed environment enhances your child's positive attitude towards dental health, creating an eager office participant. Dr. Kostides welcomes and encourages children as young as three years old.
To enhance your child's visit and experience here at our office, Dr. Kostides offers a children's play area, as well as Game Boys to keep your little one amused. Dr. Kostides feels it is also important to reward your child's good behavior with a little gift upon leaving the office. Dr. Kostides also welcomes parents to join their child in the treatment room if they so choose.
Dr. Kostides feels it is very important to make sure your child is educated at every visit on their oral and overall health. To that end, Dr. Kostides offers inter-active patient education and information.
Contact us today to arrange your child's complimentary visit with Dr. Kostides!
Related Children's Dentistry Articles
Dentistry and Oral Health for Children
As part of our special section on oral health topics affecting kids, Dear Doctor brings you this wide-ranging overview of milestones and transitions in your child's dental development. Learn how to protect your children from tooth decay, dental injuries, and unhealthy habits while getting them started on the road to a lifetime of oral health and general well-being… Read Article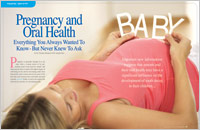 Pregnancy & Oral Health
Pregnancy is generally thought of as the time when a woman strives to be particularly aware of the need for "health". Many women though may not be aware of the link that exists between their oral health and their systemic (general) health, as well as the impact that many other factors can have on a developing child. Learn about how to care for yourself and your baby… Read Article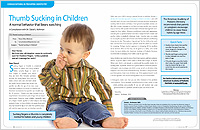 Thumb Sucking in Children
A normal behavior that bears watching… Read Article